what a proud mommy am i! take a look at this: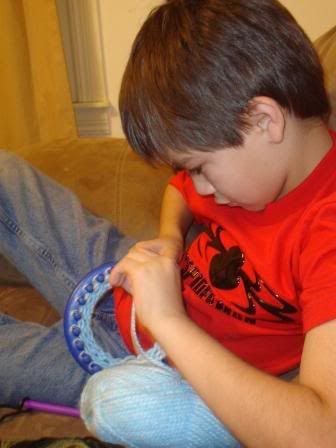 this is my 7 year old using a nifty knitter to make a hat for his teacher's new baby. she has been on maternity leave since a few days before Christmas break and will be returning tomorrow. my heart just glowed as my son and i were sitting on the couch working side by side.... and he say's "oh man, i missed a peg, i'm gonna have to frog this whole row!" ahhhhh the joys of motherhood :)
but alas... my boy is still a boy and the justice league and gameboy won his attention for his free time today... the hat sits, unfinished. but i am determined not to let him follow his mom and go from one project to the next without finishing any of them. so much so, to prove that to him today... i finished up a baby blanket that has been lying around for a LONG time...... more on that tomorrow, i also completed a little pouchy thing for him to put his baby teeth in for the toothfairy (he lost a tooth the other day... again, more tomorrow - i'm against the clock tonight). i also added another entire skein to my sister's Christmas present (yes, this PAST Christmas *sigh*) this blanket is driving me nuts... i'll post a pic tomorrow. i miss guessed the length of a beginning chain i would need and didn't realize it until i was several feet into it. decided to press on and that it would just be bigger than i had planned. wrong decision. this thing is HUGE! hubby also finished up a soldier's hat that i had started on a larger sized nifty knitter. seems like a productive weekend :).
oh, the time thing. my weight control person at the center told me to start going to bed 1 hour earlier than i normally do. i'm gonna try to mind for as long as i can. with that, i leave you, because i only have 12 minutes left!!