too funny the things we fiber fanatics put our families through.
my microwave beeps - which brings 3 of my kidlets -a runnin 'round the corner. "whachya makin?" because my children consume more food than a pack of wild dogs... seriously - where does it go!?!
example of one day=
breakfast: 4-8 bowls of cereal
mid-morning snack: 2 bananas 4 spoons of peanutbutter 4 graham crackers 4 small milks
lunch: 6 sandwhiches 4 mounds of chips 2 apples
afternoon snack: 4 small fruit juices 8 baby carrots 4 piles of raisins 4 small bowls of yogurt
dinner: 4 servings lasagna, 8 slices garlic cheese bread
are you not amazed!?! that's a LOT of food... and they are still little... i'm terrified of what they are going to inhale as the teenage years approach
okay, back to the microwave: kidlet #1 "whachya makin?" kidlet #4, who has been in on the experiment with me, grinning answers "gwape wool" a collective groan from #1,2&3, drooping shoulders and they walk away. thoroughly disappointed. while i (and kidlet #4) are quite excited to check on our experiment and see what color our 'gwape wool' has become.
i have the fleece of a cotswold and a corriadale (i think?) that i decided to comb together to see how the different wools would play and dye. my thinking was that the longer 'hair' of the cotswold would take much less color than the 'wooly' corriadale.... i was sorta right. using grape koolaid as my color; the long hairy fibers sucked up the blue dyes where the wooly fluff soaked up the reds.... so once it dries, i will spin it up.... hmmmmm interesting little experiment. think i'm going to try it again with cherry koolaid and see what happens.
i went to a wonderfully fun spinning class on saturday! i loved it. had so much fun. reminded me why i love spinning so much and i've gotten all involved in it again. it's been a while since the last time i played with hilary, so i got her out again and discovered i am much better now than i was a few months ago : ) AND i learned how to ply!! woohoo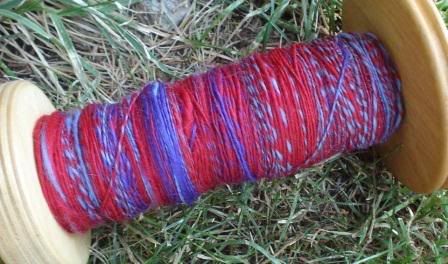 this single is about the same as sz5 crochet cotton
when i get the second bobbin full, i'll ply it and see how it looks. i'm calling it "society" it's a red with baby blue and a deep purple. i bought it from
oregon trail yarns
they no longer have this color so i made up a name - oh, and it is superwash, so no felting in the future.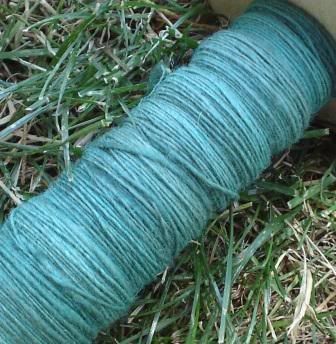 another sz5 single from a roving that was
RAOK'd
to me :)
and here it is plyed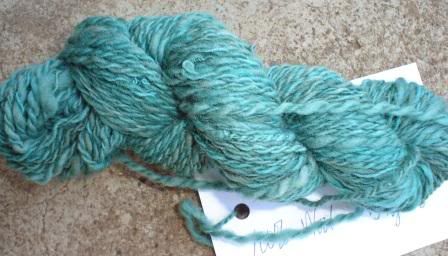 not too bad for only my 2nd time to ply ever! :)
oh, and guess what else- at this spinning class i met a lady who holds a sitNknit every other thursday! i talked with her about my beginnings and such and she said she'd love to help me out and teach me how to knit continental (because i'm an english knitter now) woohoo!
- so that means i've got to get off my butt and do all my chores
guess where i'm gonna be this evening