after several days of making beaded stitch markers, and then reading
donna's blog
, and being still further inspired by the book i have been reading:
i couldn't help myself. i picked up a huge ball of sz 10 white thread, given to me by the wonderful
kelly
, and loaded it with a hundred or so silver beads. i knotted each bead on individually from 3-5 inches apart. thick/thin spun some yummy scarlet wool and then plyed it with my bead-laden thread. i think it looks great! YAY, me! you can definately tell i'm a beginning plyer (it is patheticly uneven), but i'm still super pleased with myself!
the color in this photo is a bit off... the yarn is a much deeper red.
not sure what is to become of this yarn.... i'm thinking a cell phone cozy for my sister... or maybe a change pouch. something for her, though, that's for sure... red is her favorite color and i think she will enjoy the beads.
wonder if this will full well??? what do you think?
(a few days behind in posting from my soapbox)
sorry, but i've gotta get political for a sec:
for those who decided to protest on inauguration day and deprive our country's economy by not making purchases, gasoline or otherwise....
here's a little bird: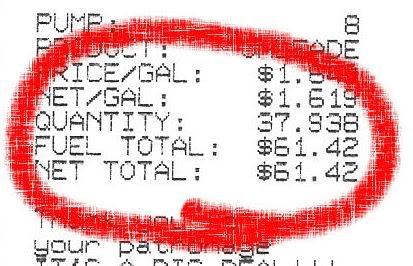 yup, that's an inauguration celebration purchase of 37.9 gallons of gas for my fuel-sucking 4X4 chevrolet suburban at a grand total of Sixty One Dollars and Forty Two cents!