how does so much time pass so quickly? it's already been almost a week. no real reason why - too much blog reading.... :) seriously, i have over 100 in my blogroll. craziness i tell you. and i enjoy them too much to cut any out.
okay, so what has happened in a week? my 3 year old son, is now my 4 year old son. i just can't believe it. maybe he'll mellow out a little this year. he will be starting pre-K in august. my kiddos go to a magnet school, so the pre-K is all day, not just a few hours... oh how i feel for those teachers - mwua ha ha
hmmm what else? i had my monthly bunko group tonight... i didn't win, drats! but it's great fun to be with my friends and goof off and have strawberry shortcake. mmmmmmm i saw a thing on tv the other day where someone was making strawberry shortcake and they used a biscuit! what the heck? i've never had it any other way than poundcake.
is it a regional thing?
where are you and how do you eat strawberry shortcake?
projects:
i made another needle felted creature. my little sister asked for a monkey - so here he is. he turned out a little bigger than i had wanted... and he has a few flaws. but she will love him anyway. this is my first attempt at making a 'jointed' critter. it's tougher than i thought i'd be. he's not exactly symmetrical. but don't go lookin for his "character" i tried to take a picture where it doesn't show up :)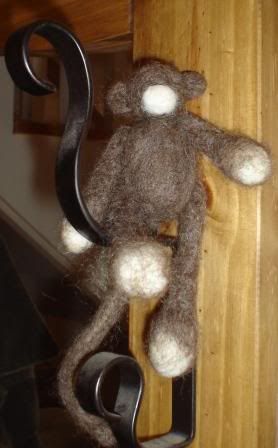 monkey of another kind:
are you living in spring bliss yet? finally - the sun has come out and we took full advantage last weekend. i planted some little monkey grasses in an add non-concreted space next to our driveway. looky at me in my big brim sun hat... my oldest just praying no one sees me in :)

moving on:
because tomorrow is WIP day, i'll save my crochet stuffs til then.