albeit fraternal!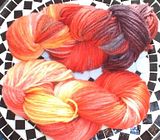 how did this happen?! 2 skeins of yarn in the very same dye dish... look at the difference!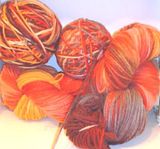 now what? here is a picture of 4 skeins of the exact same yarn, dyed the exact same way with the exact same flavors of kool-aid. now what? the project i wanted to use these for will definately require more than one skein. but i'm afraid of using these together. don't you think it will create a stripe when i switch? UGH!! so, anyone have any good ideas for single skeins of wool? i'm very disappointed in this adventure. guess i'll have to order some store-bought --humph, not what i wanted to do.
check out my new toy! how fun is this going to be!?! although, i have to say, wish it would make a little thicker cord. or at least come in different sizes.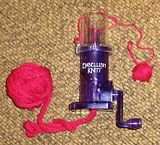 guess that's all i'm going to post for now. i have much housework to do before the demolition of the bathroom begins. clean it before destroying it? well, i wouldn't want the builder to see it dirty, now would i?