finally got the ends weaved in of the triangle head scarf for my friend's birthday gift... now i have to get to the PO... i also need to send her the giant purple mohair rose.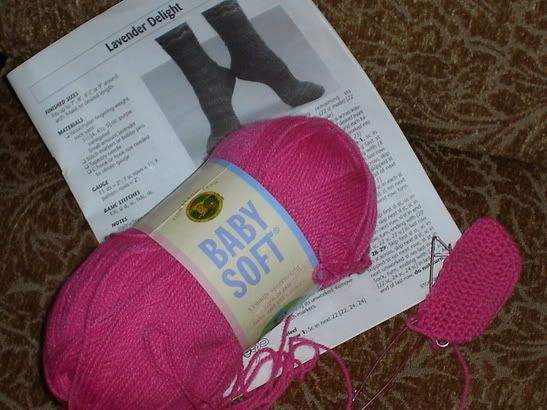 here is the toe of a sock i have started and was finally able to do! YAY! but why am i showing you this very small progression of a sock toe? because i have to frog it!!! you see, i lost the pattern booklet, then found it and now, have no idea what row i am on and my stitch marker is missing to mark the row.... so screw it. i don't even think i'm gonna bother frogging.... just chop the blasted thing off and throw it in the garbage and be done with it! BLAH!
haven't worked on anything today... i had a field trip to the zoo this morning with my daughter's class. it was fun - i wanted to sneak the sheep in the back of the 'burban. which by the way, is fixed. hubby was able to fix it last night. he replaced the starter and altenator and some other junk.... which really is cool that he can do that kind of thing. here's the bad news: we have an "oh-shit" account. basicly, when anything goes wrong, we pull from that account and it doesn't screw our budget... well, thank goodness for that, but now that hubby pulled a little over $500 out of it fixing the 'burban; that means it must be replaced... which means, my allowance is what has to be used to fill the gap - agh! a whole month of NO fun yarn, roving, or wool purchases of any kind. :( i'm sad, but it's the best thing.
gee, i'm so tired... would it be wrong to take a nap with the kids running around? :) can you imagine what my 2&3 yr old boys would do to my house!?! oh my, i don't even want to think about that!!